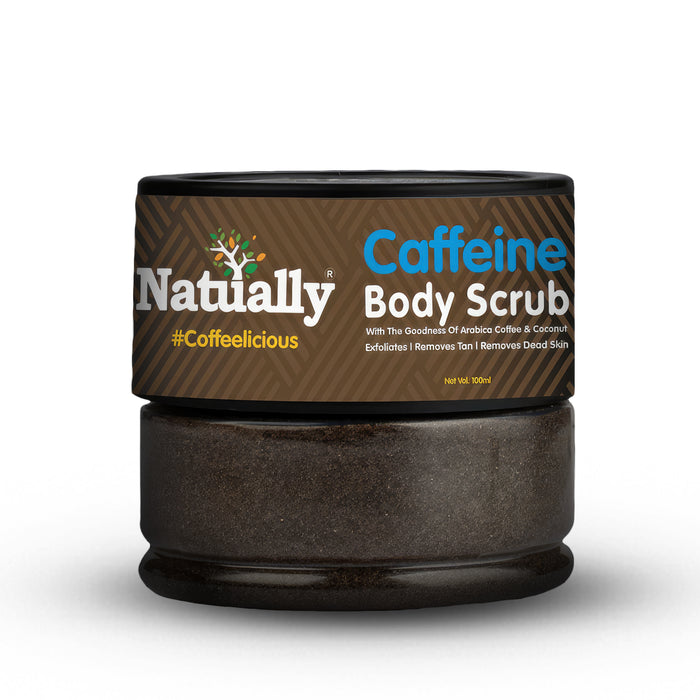 Product Description:
Rejuvenate your skin with Natually's Caffeine Body Scrub, designed to awaken and invigorate your body while providing gentle exfoliation. This body scrub is your secret weapon for smoother, healthier-looking skin.
Benefits:
Energizes Skin:
The caffeine infusion revitalizes and energizes your skin, leaving you feeling refreshed and awakened. Exfoliates Gently: Natural exfoliants help remove dead skin cells, revealing smoother and more radiant skin.
Hydrates Deeply:
The scrub nourishes your skin, locking in moisture for a soft and supple feel. Firms and Tones: Regular use can promote firmer, more toned-looking skin.
Why to Use:
If you desire a refreshing and revitalizing shower experience that also cares for your skin, Natually's Caffeine Body Scrub is the perfect choice. It's suitable for all skin types and helps maintain healthier-looking skin.
How to Use:
Wet your skin in the shower. Apply the scrub generously, focusing on rough areas. Gently massage in a circular motion for exfoliation. Rinse thoroughly with warm water. Use 2-3 times a week for best results.
Shipping Policy
At Natually, we want to ensure that our customers receive their orders in a timely and efficient manner. Please review our shipping policy below for details on our shipping process:
Processing Time: Orders are typically processed within 1-2 business days from the time the order is placed. Business days exclude weekends and public holidays.

Shipping Time: Once your order has been processed, it will be shipped according to the shipping method you have selected. Shipping times vary based on the shipping method you choose and your location. Shipping times are as follows:
Standard Shipping: 5-7 business days
Expedited Shipping: 2-3 business days
Overnight Shipping: 1-2 business days
Please note that shipping times are estimates only, and we cannot guarantee specific delivery dates.
Shipping Rates: Shipping rates are calculated based on the weight and dimensions of the items in your order, as well as your shipping address. You will be able to view shipping rates at checkout before submitting your order.

International Shipping: We currently do not offer international shipping.

Order Tracking: Once your order has been shipped, you will receive a shipping confirmation email with a tracking number. You can use this tracking number to track the status of your order on our website or the carrier's website.

Shipping Carrier: We use a variety of shipping carriers, including but not limited to USPS, UPS, and FedEx. The carrier used for your order will depend on the shipping method selected and your location.

Shipping Address: Please ensure that the shipping address provided during checkout is accurate and complete. We are not responsible for orders that are shipped to an incorrect address due to an error in the shipping address provided.

Shipping Restrictions: Certain products may be subject to shipping restrictions or cannot be shipped to certain locations. We reserve the right to cancel orders that violate any shipping restrictions or regulations.
If you have any questions or concerns regarding our shipping policy, please do not hesitate to contact us.