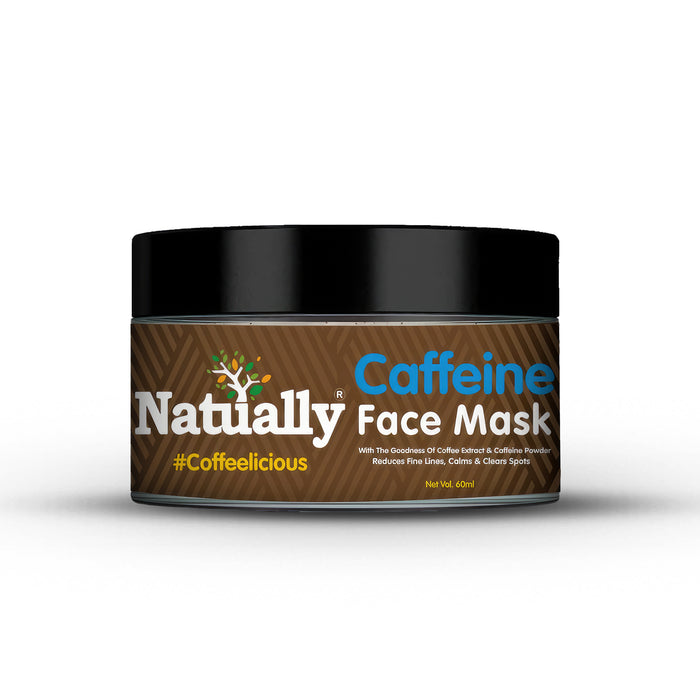 Product Description:
Energize your skin and uncover its natural radiance with Natually's Caffeine Face Mask. This revitalizing mask is expertly crafted to rejuvenate your complexion, leaving you with a refreshed and invigorated look.
Benefits: Revitalizes Skin:
Wake up tired skin with the invigorating power of caffeine. Brightens Complexion: Achieve a vibrant, more radiant skin tone.
Hydration Boost:
The mask provides deep hydration for a refreshed and supple feel. Skin Firming: Experience firmer, tighter skin with regular use.
Why to Use:
If your skin needs a pick-me-up, Natually's Caffeine Face Mask is the solution. Suitable for all skin types, it revitalizes and energizes your complexion, giving you a healthy and refreshed look. How to Use: Cleanse your face thoroughly. Apply an even layer of the Caffeine Face Mask, avoiding the eye and lip areas. Leave it on for 15-20 minutes, allowing it to work its magic. Rinse off with warm water. For best results, use 2-3 times a week.
Shipping Policy
At Natually, we want to ensure that our customers receive their orders in a timely and efficient manner. Please review our shipping policy below for details on our shipping process:
Processing Time: Orders are typically processed within 1-2 business days from the time the order is placed. Business days exclude weekends and public holidays.

Shipping Time: Once your order has been processed, it will be shipped according to the shipping method you have selected. Shipping times vary based on the shipping method you choose and your location. Shipping times are as follows:
Standard Shipping: 5-7 business days
Expedited Shipping: 2-3 business days
Overnight Shipping: 1-2 business days
Please note that shipping times are estimates only, and we cannot guarantee specific delivery dates.
Shipping Rates: Shipping rates are calculated based on the weight and dimensions of the items in your order, as well as your shipping address. You will be able to view shipping rates at checkout before submitting your order.

International Shipping: We currently do not offer international shipping.

Order Tracking: Once your order has been shipped, you will receive a shipping confirmation email with a tracking number. You can use this tracking number to track the status of your order on our website or the carrier's website.

Shipping Carrier: We use a variety of shipping carriers, including but not limited to USPS, UPS, and FedEx. The carrier used for your order will depend on the shipping method selected and your location.

Shipping Address: Please ensure that the shipping address provided during checkout is accurate and complete. We are not responsible for orders that are shipped to an incorrect address due to an error in the shipping address provided.

Shipping Restrictions: Certain products may be subject to shipping restrictions or cannot be shipped to certain locations. We reserve the right to cancel orders that violate any shipping restrictions or regulations.
If you have any questions or concerns regarding our shipping policy, please do not hesitate to contact us.