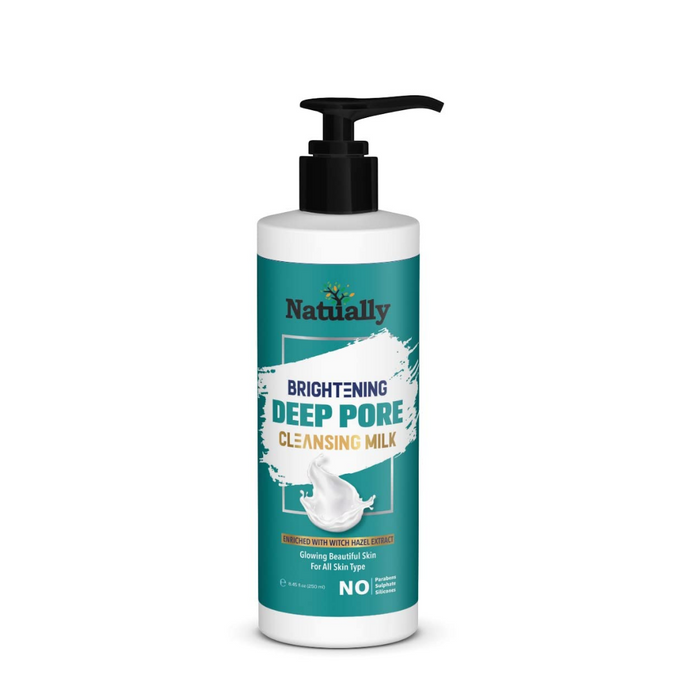 Experience the purity of NATUALLY Deep Pore Cleansing Milk, a gentle yet effective solution to cleanse your skin deeply and remove impurities. This 500ml bottle is designed to provide you with a generous supply of cleansing milk that leaves your skin refreshed, clean, and ready to glow.
Benefits:
Deep Cleansing: The formula penetrates deep into pores to dissolve and lift away dirt, oil, and makeup, leaving your skin thoroughly cleansed.

Gentle Formula: Our cleansing milk is formulated with gentle ingredients to ensure it's suitable for all skin types, including sensitive skin.
Hydration Boost: While cleansing, the milk also helps maintain your skin's natural moisture balance, preventing dryness and discomfort.
Non-Stripping: Unlike harsh cleansers, our deep pore cleansing milk leaves your skin feeling soft and comfortable, without any tightness.
Why to Use:

Cleanse your skin with care and enjoy the refreshed feeling of deeply cleansed pores. NATUALLY Deep Pore Cleansing Milk is your daily partner in maintaining clean and healthy skin.
How to Use:

Apply a small amount of cleansing milk to a cotton pad.

Gently sweep the pad across your face and neck, avoiding the eye area.
Rinse with water or wipe off any excess with a damp cloth.
Use daily as part of your skincare routine to maintain clear and radiant skin.
Shipping Policy
At Natually, we want to ensure that our customers receive their orders in a timely and efficient manner. Please review our shipping policy below for details on our shipping process:
Processing Time: Orders are typically processed within 1-2 business days from the time the order is placed. Business days exclude weekends and public holidays.

Shipping Time: Once your order has been processed, it will be shipped according to the shipping method you have selected. Shipping times vary based on the shipping method you choose and your location. Shipping times are as follows:
Standard Shipping: 5-7 business days
Expedited Shipping: 2-3 business days
Overnight Shipping: 1-2 business days
Please note that shipping times are estimates only, and we cannot guarantee specific delivery dates.
Shipping Rates: Shipping rates are calculated based on the weight and dimensions of the items in your order, as well as your shipping address. You will be able to view shipping rates at checkout before submitting your order.

International Shipping: We currently do not offer international shipping.

Order Tracking: Once your order has been shipped, you will receive a shipping confirmation email with a tracking number. You can use this tracking number to track the status of your order on our website or the carrier's website.

Shipping Carrier: We use a variety of shipping carriers, including but not limited to USPS, UPS, and FedEx. The carrier used for your order will depend on the shipping method selected and your location.

Shipping Address: Please ensure that the shipping address provided during checkout is accurate and complete. We are not responsible for orders that are shipped to an incorrect address due to an error in the shipping address provided.

Shipping Restrictions: Certain products may be subject to shipping restrictions or cannot be shipped to certain locations. We reserve the right to cancel orders that violate any shipping restrictions or regulations.
If you have any questions or concerns regarding our shipping policy, please do not hesitate to contact us.