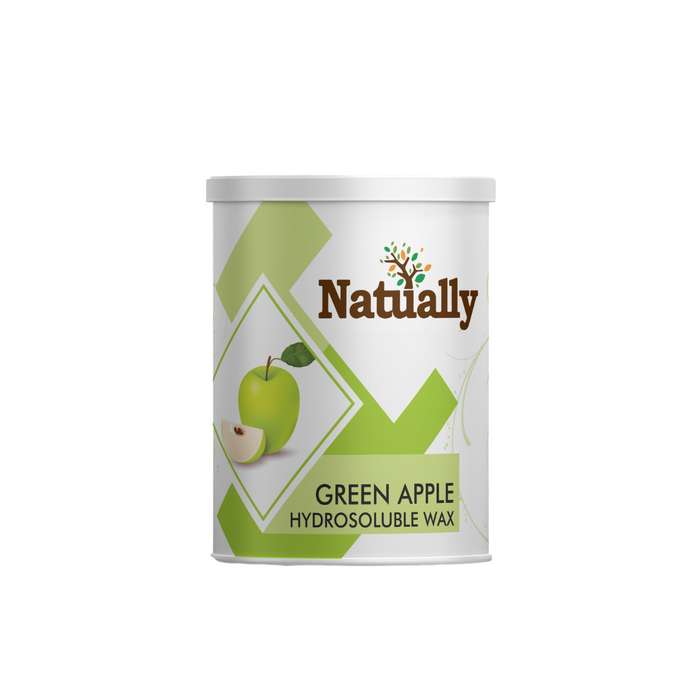 Experience the power of natural hair removal with Natually Hydrosoluble Green Apple Hair Removal Wax. This unique wax combines the effectiveness of traditional waxing with the gentleness of green apple extracts, providing a smooth and efficient hair removal experience.
Benefits:
Effective Hair Removal: Our hydrosoluble wax adheres to the hair, not the skin, for gentle yet effective hair removal.

Natural Ingredients: Enriched with green apple extracts, our wax is formulated with natural ingredients that help soothe and nourish the skin.
Smooth Application: The smooth texture of the wax ensures easy and even application, reducing the discomfort of hair removal.
Long-Lasting Results: Enjoy hair-free skin for longer with our wax that removes hair from the root, delaying regrowth.
Gentle on Skin: The gentle formula minimizes skin irritation, making it suitable for even sensitive areas.
Pleasant Fragrance: Experience a refreshing green apple scent during your hair removal session.
Why to Use:

Natually Hydrosoluble Green Apple Hair Removal Wax offers a natural and effective solution for removing unwanted hair. Enjoy the benefits of smooth, hair-free skin without the harshness of traditional waxing methods.
How to Use:

Heat the wax according to the instructions provided.
Test the temperature on a small area of skin before applying to a larger area.
Using a spatula, apply a thin layer of wax in the direction of hair growth.
Place a waxing strip over the wax and press down firmly.
Hold the skin taut and swiftly remove the strip in the opposite direction of hair growth.
Repeat on other areas as needed.
Discover the gentle power of green apple extracts in Natually Hydrosoluble Green Apple Hair Removal Wax. Experience smooth and nourished skin with every waxing session.
Shipping Policy
At Natually, we want to ensure that our customers receive their orders in a timely and efficient manner. Please review our shipping policy below for details on our shipping process:
Processing Time: Orders are typically processed within 1-2 business days from the time the order is placed. Business days exclude weekends and public holidays.

Shipping Time: Once your order has been processed, it will be shipped according to the shipping method you have selected. Shipping times vary based on the shipping method you choose and your location. Shipping times are as follows:
Standard Shipping: 5-7 business days
Expedited Shipping: 2-3 business days
Overnight Shipping: 1-2 business days
Please note that shipping times are estimates only, and we cannot guarantee specific delivery dates.
Shipping Rates: Shipping rates are calculated based on the weight and dimensions of the items in your order, as well as your shipping address. You will be able to view shipping rates at checkout before submitting your order.

International Shipping: We currently do not offer international shipping.

Order Tracking: Once your order has been shipped, you will receive a shipping confirmation email with a tracking number. You can use this tracking number to track the status of your order on our website or the carrier's website.

Shipping Carrier: We use a variety of shipping carriers, including but not limited to USPS, UPS, and FedEx. The carrier used for your order will depend on the shipping method selected and your location.

Shipping Address: Please ensure that the shipping address provided during checkout is accurate and complete. We are not responsible for orders that are shipped to an incorrect address due to an error in the shipping address provided.

Shipping Restrictions: Certain products may be subject to shipping restrictions or cannot be shipped to certain locations. We reserve the right to cancel orders that violate any shipping restrictions or regulations.
If you have any questions or concerns regarding our shipping policy, please do not hesitate to contact us.